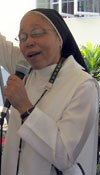 Sr. Kathy Joseph OP, current General Bursar of the Congregation, Musician and former Youth Coordinator for the Archdiocese of Port of Spain, placed her musical gifts at the service of the people of God in the Caribbean by composing the lyrics and music of a theme song for the recent Fourth Antilles Episcopal Conference Youth Assembly (IV AECYA) held in Gros Islet, St. Lucia from July 24-28.
Entitled 'Your Holy Word, a Lamp and Light', in accordance with the stated theme of the Assembly "Your Word is a lamp for my steps and a light for my path," (Ps 119: 105), the beautiful composition contains lyrics in French, Dutch and Papiamento to reflect the diverse membership of the Conference.
In addition to the dioceses of the Anglophone Caribbean,  the AEC also comprises the Diocese of Cayenne, French Guiana; the Diocese of Paramaribo, Suriname; the Diocese of St. Pierre and Fort-de-France, Martinique; and the Diocese of Willemstad, Curaçao.    The song was well-received by the young pilgrims who travelled from all over the Caribbean to be part of this event.
[youtube]http://www.youtube.com/watch?v=uPqsu46J1Ig[/youtube]