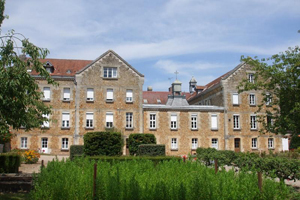 By Sr Marie Thérèse Rétout OP)
A new spring
In a small village of Burgundy, France, Bonnay, close to Cluny, the ancient monastic centre, the French congregation of St Catherine of Siena was born in 1854. The Foundress, Mother Saint Dominique of the Cross, Gaud, was one of the courageous religious women who, after the terrible years of revolution and persecution of the Church in France, restored the religious Dominican way of life for women. A few years earlier, Fr Henri Lacordaire had already started the restoration of the Dominican Order of Friars Preachers in France. A new spring was invigorating the country.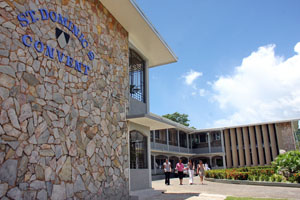 A call from Trinidad
This religious Congregation, when in existence for only 12 years, one day received a request from Trinidad. It was asking for religious sisters to come to this far away country to take care of patients of the Cocorite Leprosarium. This institution was situated in the environs of the capital, Port of Spain.
Humanly speaking, in that 19th century, it would have been folly to send young religious women – who might not even have travelled beyond the confines of Burgundy – to go beyond the vastness of the Atlantic Ocean to an unknown place, however, the Foundress and her religious Sisters, strengthened by an invincible faith and trust in God, responded favourably to the request.
Preparations began by sending two of the volunteers to the city of Lyons to take a short course in nursing at the renowned hospital specialised in tropical diseases.
A call for heroism
On March 8, 1868, five Dominican Sisters from Bonnay embarked on the SS France bound for the Lesser Antilles, reaching Trinidad on March 26. Shortly after their arrival, the Sisters started their work of utter dedication at the Cocorite Leprosarium. In the months which followed, 10 more Sisters came from Bonnay and joined them at Cocorite. Alas, in September 1869, nine Sisters died at Cocorite, all victims of a yellow fever epidemic. Was the Sisters' mission going to end there? Not at all. Other generous Sisters in Bonnay offered themselves to be sent to Trinidad so as to continue the work of those who had gone before them.
And so it was that for 82 years (1868-1950) the Dominican Sisters, at first in Cocorite, then on the island of Chacachacare lovingly cared for leper patients – men,women and children – who had been regarded as outcasts of society.
Years of implantation
The seed of the Dominican way of religious life had been implanted in the soil of this Caribbean island. The purpose of a seed is to grow, therefore, in 1876 the Dominican Sisters received another request, namely, to care for the many underprivileged children at the St Dominic's orphanage in Belmont, Port of Spain. (later renamed, the St Dominic's Children's Home.) Since that year, thousands of children have passed through the hands of these Sisters and their lay caregivers, up to the present. One hundred and thirty-five years later this residential care continues with the appreciated financial assistance of the State.
Then in 1892, the Sisters' work of education took another form when some senior girls of the St Dominic's orphanage, who had no family to go to when they were 16 years old, were received at the newly founded Holy Name Convent, 2 Queen's Park East, Port of Spain. There a Training Centre was created for them. Since then, education and the teaching of various skills have been imparted to young girls in need of care and protection. This residential work has been going on for 119 years and still continues today.
When Holy Name Convent was established in 1890 it had been foretold that it was destined to become a source of life. Its 121 years of existence have proven that this prediction was a true one. In the early 1900's, the task of educating children at primary and secondary levels began at the Holy Name Convent schools. In 1958, it spread to the foundation of the St Dominic's Secondary school at Malick/Barataria and in 2000, in the setting up of the Holy Name Secondary school in Point Fortin. In 1974, the same contribution in education reached the tertiary level through teaching done at the Regional Seminary. Today, the work of the Sisters in this field continues to be an important part of their mission.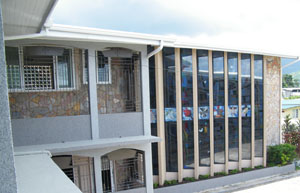 Years of transition
In the course of 78 years (1868-1946) 157 Dominican Sisters contributed to the implantation of the Congregation in Trinidad; 104 came from France, 24 from other countries and 29 from Trinidad & Tobago. After the Second World War (1939-45) a few Sisters came from France to Trinidad and worked here for a few years; the last one – this writer – came in 1952 and since then has made Trinidad and Tobago her second motherland.
The Second World War had disastrous effects on the Sister's mission in Trinidad. First of all, there was a total breakdown of communication between France and the West Indies. For almost six years, no Sister could come from France to give assistance to the Trinidad Dominican Convents. Then, after the terrible war years there was a wave of secularism that impacted on Western European countries which gradually impaired the Christian faith of their peoples. As a result, vocations to the religious life were scarce. It became evident that recruitment would have to be done in Trinidad itself. The General Council of the Congregation, with the agreement of the relevant Church authorities, decided to establish a Novitiate (house of Formation) to be attached to the Holy Name Convent in Port of Spain. This took place in April 1946.
Was this move going to stop the help the Sisters in France were giving to their Sisters in Trinidad? Not at all! In the past and in the present the latter have deeply appreciated and are most grateful to their Sisters in France for all the generous assistance they have given them. This took the form of financial help for building construction and maintenance, for the formation of candidates, for tertiary education and study abroad. Moreover, guidance was also given conventual government and administration which were essential for growth and development.
The stage of maturation and confidence was reached when in the 1980s and 90s the Congregation in Trinidad and Tobago was granted, at first, the status of Region and later of Province with a certain autonomy and responsibility for its own organisation and government. Then in 1988, our dear Trinidad-born Sr Moyra Ann Roach was elected General Prioress of the Congregation – a great joy and an honour for us all in Trinidad and Tobago.
All these years have been very challenging for our Congregation. The Sisters have been striving to respond to the call of Christ and also by living out the words of their Foundress who wanted them all to be "totally given to the service of the Gospel and open to the needs of the time with constant attention to human realities."
Major changes
On August 28, 2011, the Mother House – or headquarters – of the government of our Congregation of Saint Catherine of Siena was officially transferred from Etrépagny (town in Normandy) France, to Trinidad. It is now located on Sixth Avenue, Malick/Barataria, on the outskirts of Port of Spain. It will be occupied by the General Prioress of the Congregation and her Council as well as by a community of Dominican Sisters. As a Motherhouse it will also be used as a place for various meetings and assemblies.
It is a fact that the number of Dominican Sisters in this Congregation is rather small: 58 in France (mostly
Canada and Barbados; five in Guadeloupe. This follows our Lord's way of acting when he chose only 12 men to establish his Church on earth, giving them the command, "Go and teach all nations", so the whole field is open and the Holy Spirit is at work, a spirit that creates and re-creates.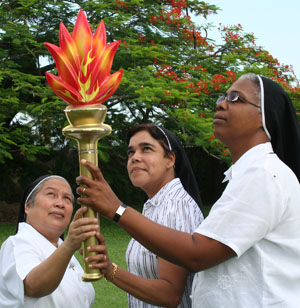 The torch of light and hope
The torch of light and hope has been passed from the Dominican Sisters in France to their Dominican Sisters in Trinidad & Tobago. It is a time of thanksgiving to God and also a time for living the directives of Sr Moyra Ann which she gave to her sisters when she was General Prioress. She said then: "What we need now is a deep spiritual renewal, a new fervour and zeal because religious congregations flourish depending on their spiritual dynamism which springs from a life of deep prayer and challenging apostolic action."
May the former St Dominic's Convent School, which in the past had been a source of enriching intellectual life for many students, be now a beacon of light and a source of new life for many years to come.
A glance through history
Works of the Dominican Sisters of the French Congregation of St Catherine of Siena
1854 – Bonnay – First foundation – Parish activities – school – Convalescent home
1859 – St Nicolas (east of France) orphanage – school
1868 – Cocorite Leprosarium (Trinidad)
1876 – St Dominic's Orphanage (Trinidad)
1878 – Etrépagny (Normandy, France) Motherhouse – Novitiate – schools – rural hospital
1885 – Levallois-Perret (Paris suburb) General Hospital – Nursing school
1890 – Holy Name, Port of Spain, Novitiate, Schools, Training Centre.
1900 – Montrouge (Paris) Perpetual Adoration – School
1903 – Good Shepherd, Port of Spain, Reformatory school
1931 – Angeville (Central – East France) Sanatorium
1937 – Chandron (Central France) rural maternity – Senior citizen's home
1950 – La Desirade island (Guadeloupe) Leprosarium
1957 – Le Raizet (Guadeloupe) School – Kindergarten
1958 – Malick/Barataria (Trinidad) School
1967 – Point Fortin (Trinidad) Schools – Retreat house
1968 – Colombes (Paris suburb) Special school
1970 – Vaison (South France) Parish activities
1973 – St. Augustine (Trinidad) UWI – RC Chaplaincy
1979 – Toronto (Canada) West Indian Centre
1980 – Arima (Trinidad) Novitiate at Calvary Hill
1991 – Gran Couva (Trinidad) Pre-school & Retreat house
1994 – Bridgetown (Barbados) School – Youth ministry
This article first appeared in the Catholic News of Sunday, September 4, 2011.